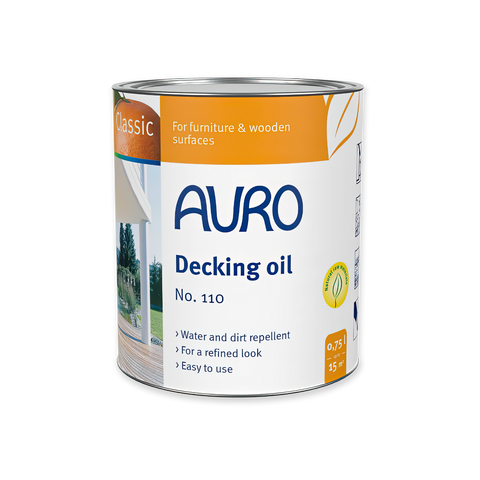 Auro 110 - Decking Oil
Show more
Refined look for old and new wooden deckings: water- and dirt-repellent oil available in three colour shades: Teak, Bangkirai and Larch. Does not flake and is easy to apply with a paint brush or roller. Improves weather resistance and protects surfaces from UV radiation.
– Water and dirt repellent

– For a refined look

– Easy to use



Our Auro paint collection is unparalleled, as is our pride in our rich selection of natural paints.
Application

Clean soiled terraces with AURO Garden wood cleaner No. 801. Evenly apply one or two coats of the oil. Take off or rub in surplus oil within 30 minutes.



Tips

Available in the colour tones teak, bangkirai or larch. The effect of the colour tone can be tested in advance by means of a test application on a hidden spot.
Coverage: up to 20 sq. m per litre
Tung oil, orange terpenes, linseed oil, mineral pigments, fatty acids, drying agents (cobalt-free), silica, lecithin.
Greenshop Paints company reviews
We're really pleased that our customers have taken the time to share their feedback with us.
Feel free to read our reviews below or let us know about your experience!