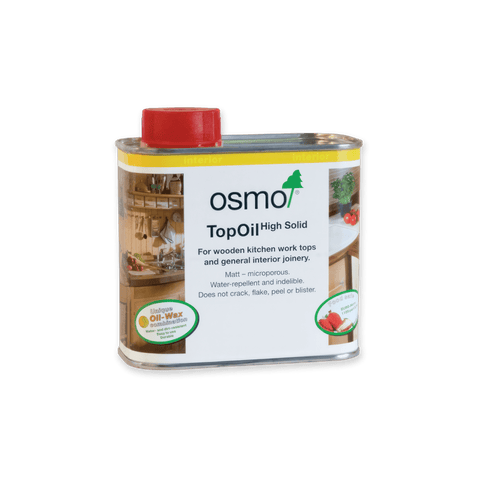 Osmo Top Oil
Show more
Microporous Osmo natural hardwax-oil wood finish for kitchen worktops and table tops, which is extremely tough and hardwearing. It is water repellent and dirt resistant. The finish is resistant against wine, beer, cola, coffee, tea, fruit juices, milk and water. These types of liquid spillages will tightly bead on the surface without leaving any marks, simply clean by wiping with a cloth.
How to apply Osmo Top Oil
https://www.youtube.com/watch?v=sveDPFjNNbA


Food safe (EN 1186)

Safe for use on children's toys (EN 71.3)

Extremely water and chemical resistant

Very durable and hardwearing

Resistant to common liquid spillages such as water, juice, tea, cola and wine

Saliva-resistant and sweatproof, suitable for children's toys

Microporous, breathable finish which does not crack, peel or flake

No sanding necessary for spot repairs or future applications




No. of coats: 1st brushed coat, 2nd coat with cloth or pad

Application temperature: +5°C to 35°C

Drying time: 8-10hrs.



METHOD OF APPLICATION

Apply the first coat thinly along the wood grain with an Osmo Microfibre Roller, Flat Brush or Oil Finish Applicator Fleece.

Allow to dry for approx. 8-10 hours. Ventilate well while drying.

Apply the second coat with an Osmo Oil Finish Applicator Fleece or a lint-free cloth. Avoid covering during drying and curing. After 2-3 weeks, the surface is fully cured.

For renovations, one coat applied to the clean and dry surface with an Oil Finish Applicator Fleece or lint-free cloth is usually sufficient.
Based on natural plant oils (sunflower oil, soya oil, thistle oil) and waxes, paraffin, pigments, lead-free siccatives (drying agents) and water-repellent additives. Dearomatized white spirit (benzene-free).
Greenshop Paints company reviews
We're really pleased that our customers have taken the time to share their feedback with us.
Feel free to read our reviews below or let us know about your experience!