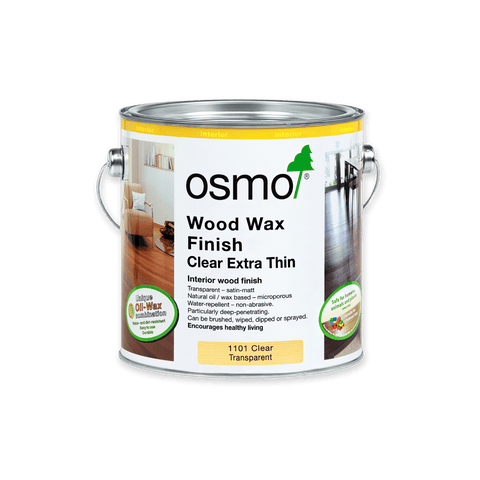 Osmo 1101 - Wood Wax Finish Extra Thin (Clear)
Show more
FOR INGREDIENT-RICH HARDWOODS
Osmo Natural oil and wax combined interior finish designed for hard, ingredient-rich, oily and dark wood species – such as Teak, Cedar, Iroko, Walnut etc. In one simple application a rich professional satin finish is produced. The grain and texture of the wood is accentuated. Extremely water resistant and dirt repellent, suitable for all interior use such as flooring, furniture and joinery including wet rooms, kitchens and bathrooms – does not suffer from water marks. An all in one product – no base coat, primer or top coat is necessary.
How to apply Osmo Wood Wax Extra Thin
METHOD OF APPLICATION

Osmo Wood Wax Finish Clear Extra Thin can be brushed, wiped, dipped or sprayed in an enclosed unit.



1st coat: Apply thinly along the grain with an Osmo flat brush or lint free cloth (for furniture). Maintain a wetted surface to feed the wood for 30 minutes. Avoid allowing the product to dry. After 30 minutes, wipe away any excess product with a lint free cloth. If necessary, re-apply to unsaturated, thirsty areas then wipe away excess before drying. Provide good ventilation for drying.



2nd coat: Please follow the same process as the 1st coat. Avoid covering during drying and curing. After 2-3 weeks, the surface is fully cured.



Recommended number of coats: one coat for furniture / two coats for flooring and worktops.



For renovation works, one coat applied to the clean and dry surface is usually sufficient.
Approx. coverage: 20m²/L with one coat
Based on natural plant oils and waxes (sunflower oil, soya oil, thistle oil, carnauba wax and candelilla wax), paraffin, siccatives (drying agents) and water-repellent additives. Dearomatized white spirit (benzene-free).
Greenshop Paints company reviews
We're really pleased that our customers have taken the time to share their feedback with us.
Feel free to read our reviews below or let us know about your experience!