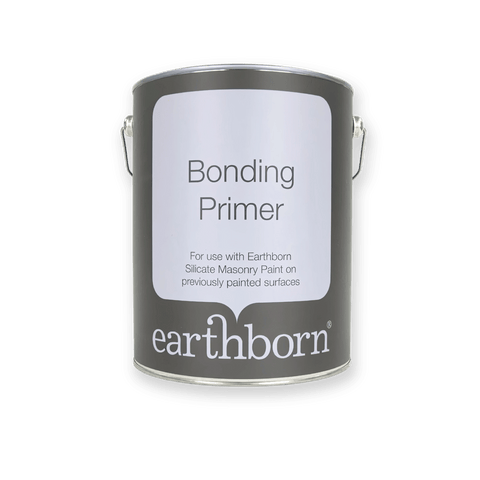 Earthborn Bonding Primer
Show more
Earthborn are excited to announce the launch of a new product, Bonding Primer. The addition of this new primer to their range now means that Earthborn Silicate Masonry Paint can be used over previously painted masonry.
The newly formulated Bonding Primer can be used alongside Earthborn Silicate Masonry Paint for exterior masonry surfaces that do not need to breathe. This means that their 48 beautiful shades can be used on all buildings. It is available in 2.5L and 5L tins.



How is Bonding Primer different from Silicate Primer? The original breathable Silicate Primer is designed to be used on bare porous mineral-based surfaces such as lime render, stone, masonry, concrete, pebbledash, and plaster. It forms a chemical bond with a porous surface and becomes part of the wall. It cannot form this bond on a pre-painted masonry wall. Bonding Primer provides a mechanical bond between a 'sealed' wall and the paint, which allows Silicate Masonry Paint to 'stick' to the pre painted surface.



Durability

The Bonding Primer and Silicate Masonry Paint have a similar durability to other masonry paints of around 5-6 years depending on where the property is located.



Drying Time: Dry and ready to be painted over after 4-6 hours in normal conditions.
Can customers use the Bonding Primer alongside Silicate Primer for areas of paint I have been unable to remove?



Yes! The best way they can address this is to spot prime the patches where the previous paint cannot be removed with Bonding Primer. (Please be aware these patches will not be breathable). Then prime the rest of the unpainted area with Silicate Primer. For the second coat they should apply a mixture of 20% Silicate Primer and 80% Silicate Masonry Paint over the whole area. Advise customers to make sure to include the areas that have been spot primed. Then finish with a final coat of Silicate Masonry Paint.
Coverage: 4-7m² per litre per coat on a smooth surface. Though coverage is highly dependent on surface porosity and surface texture.
Binder (VAE), Calcium Carbonate, Water, Fillers, Titanium Dioxide, Defoamer, Sodium Hydrate, Methyl Cellulose, Preservative (Isothiazolinone Mixture).
Greenshop Paints company reviews
We're really pleased that our customers have taken the time to share their feedback with us.
Feel free to read our reviews below or let us know about your experience!