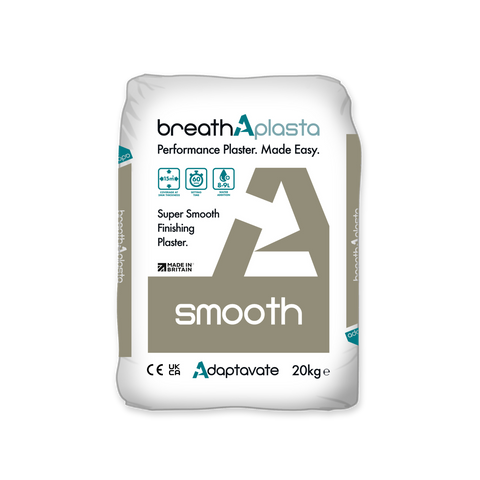 Breathaplasta - Smooth
Show more
Breathaplasta Smooth: A high-quality fine finishing plaster for internal use to achieve an attractive smooth or fine polished surface finish. Quick and easy to use. A fast setting time allows for fast and efficient completion in as little as 3 hrs from start to finish. Well suited as the top coat finishing plaster for most internal walls and ceilings. Typically applied as the skim finish to a lime plaster system. Can be used to skim over old lime plaster walls and ceilings.
Breathaplasta can be applied directly to brick, block and stone and is compatible with all masonry applications. Breathaplasta is a quick and easy lime plaster. It's simple to use and sets within an hour.
Important notes for use on brick, block and stone: Ensure the masonry is consolidated. Dub out the masonry if needed – fill holes and level off. Mist the surface of the masonry 10-15 mins prior to plaster application to control suction. Allow 1 hour to dry per 2mm of plaster thickness.
Approx. 5 square metres at 4mm thickness
Main constituents: Hydrated lime – Calcium dihydroxide, Lime (chemical) hydraulic, Crystalline silica (SiO2): Quartz
Greenshop Paints company reviews
We're really pleased that our customers have taken the time to share their feedback with us.
Feel free to read our reviews below or let us know about your experience!